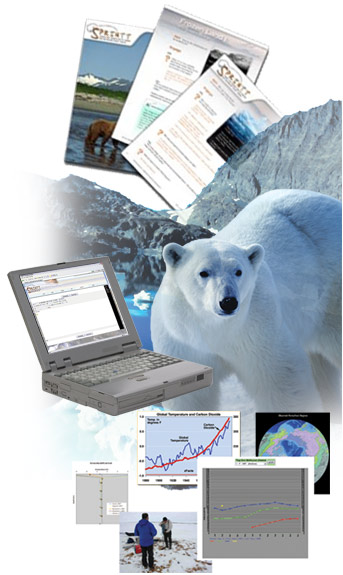 Immerse Your Students in Science in a Polar Context. Introduce them to Research.
Meet Science Standards. Integrate Technology Tools to Enhance Learning.
Engaging topics such as polar bears, sediment cores, and glaciers meet standards and help teach concepts such as food webs, living things, erosion and the phases of water. Thematic content [Frozen Water, Frozen Land and Food] is mastered in the classroom activities prior to SPRINTT's cutting-edge, online student investigations. Students, intrigued by the frozen worlds at the 'ends of the Earth' learn with SPRINTT [Student Polar Research with IPY National (and International) Teacher Training].
Students are introduced to the unique environments of the Arctic and the Antarctic. They use the lens of Alaska Natives to view current climate changes. Your students will access a wealth of real Western and Indigenous data collected by scientists. Many technology tools help them to complete their own polar research projects.
How Does My School or District Participate?
Schools or districts agree to adopt SPRINTT as a part of the formal science curriculum, using SPRINTT curricular materials to meet science standards. The minimum commitment is 1) a three to four (3-4) week introductory thematic unit in which students learn about Polar Regions (air, life, water, land), and 2) student investigations and research projects using polar data sets in various scientific areas (Earth, life, and physical science). Teachers trained in the program utilize a unique LIVE (or asynchronous), online training experience during which they virtually 'meet' researchers including scientists 'on the ice' in Antarctica.
What will my students learn?
SPRINTT is an exceptional way for students to meet specific science standards in life, Earth and physical science and apply what they learn while utilizing authentic data for exploration. SPRINTT is noted for introducing students to research and is used in classrooms for science fairs and exit projects. They will use their inquiry skills and work on important process and technology standards.
Click here for a list of SPRINTT Test Topics covered in the initial unit and within student investigations.
Selected content topic areas in the SPRINTT curricular materials include:
Earth Science:
Landforms and Topography • Glaciers on Earth • Sea Ice • Weather and Climate • Ocean Currents • Greenhouse Gases • Earth History • Seasons • Albedo • Human Impacts on Environments
Life Science:
Photosynthesis • Needs of Living Things • Food and Energy Transfer • Adaptation • Human Impacts on Environments • Conservation and Stewardship • Ecosystems and Biomes
Physical Science:
Energy in the Earth System • Conduction, Convection, and Radiation • Electromagnetic Energy • Phases of Matter • Atoms and Molecules
What is Included?
Standards and research-based curricular materials
Ways to teach students how to conduct science research projects
Access to real science data sets ready to use in the classroom
Online training (~6 hours of interactive training, self-paced)
Ongoing support from experienced educators and scientists
Participation in SPRINTT is *free*.