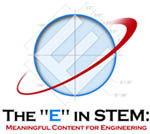 The "E" in STEM: Meaningful Content for Engineering
Target Grade(s): K-12
Overview:
Make connections to mathematics and science concepts by exploring engineering activities. Follow the Engineering Design process as you potentially design, test, and evaluate models and hands-on activities and discover the important reciprocities between science, technology, engineering, and mathematics in formal design challenges. Educators enrich classroom curriculum with elements of design in science, mathematics, or technology activities.
Standards-based topic areas include:
National Science Education Standards (NSES)
Science as Inquiry - Ability to do scientific inquiry, Understanding about scientific inquiry
Science and Technology - Abilities of Technological Design, Understanding about science and technology
Physical Science - Properties of Objects and Materials
Science in Personal and Social Perspectives - Science and technology in local, national, and global challenges
International Technology Education Association (ITEA)
Nature of Technology - The relationships among technologies and the connections between technology and other fields of study.
Design -Attributes of design, engineering design
Abilities for a Technological World - Ability to apply design process, ability to assess the impact of products and systems
Objectives:
By the end of this course, participants will be able to:
Describe the nature, characteristics, and scope of engineering problem solving and design.
Examine and draw conclusions about the relationship between the study of engineering, technology, mathematics, and science (and other discipline-based knowledge) through classroom activities.
Demonstrate the ability to solve engineering problems/challenges.
Evaluate engineering activities and curriculum that lead students to a greater understanding of the scientific and technological world.
Incorporate the engineering design process and NASA content into regular classroom instruction.
LIVE sessions:
Session 1: Topic: What is Problem Solving and Engineering Design?
Session 2: Topic: The Processes Engineers Use to Solve Problems
Session 3: Topic: Methods of Implementing NASA Engineering Design into the Classroom
Session 4: Topic: Engineering as an Interdisciplinary Tool for Integrative STEM Education
Additional Study:
After the interactive sessions, participants select from a variety of assignments in order to complete the necessary hours to earn credit for the course. Assignment choices include:
Create engineering design lessons for your classroom.
Research curriculum materials available for engineering design.
Investigate NASA "spinoff" technology with your students in the classroom.
Develop activities for your students to create innovative solutions to reuse materials for NASA missions.
To sign up for this course,
select 1 of the 1 sessions
below:



All sessions are EDT.



9PM Session starting 9/26/13:
9/26/13, 9:00-10:00 PM ET
10/10/13, 9:00-10:00 PM ET
10/24/13, 9:00-10:00 PM ET
11/7/13, 9:00-10:00 PM ET
11/21/13, 9:00-10:00 PM ET
Register for this session.